In a place like Arizona, the usual warm climate hikes up to extreme temperatures in the summer months. While we usually prepare our bodies with sunscreen and shades, what do you do to prepare your roof for the summer season?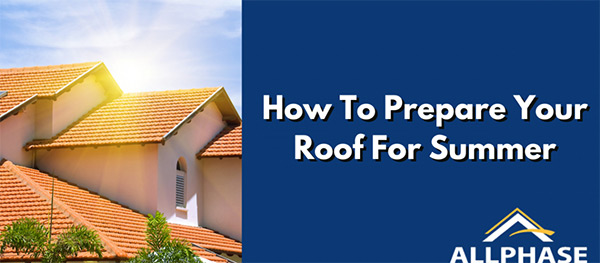 While other parts of your home have been prepared against the high temperatures with improved ventilation, central air conditioning, and a set of blackout curtains, your roof may have been left out to endure most of the heat. When preparing your home for the summer, here are a few summer roof maintenance tips that can save you time and money down the road.
Clean Gutters And Drains
To prevent expensive repairs, it's important to check your gutters and drains for debris or clogs. Once you do it in the summer, your drains and gutters will be prepared for storm season and any debris that may come your way. Check your gutter support brackets to make sure they are secured onto your home's exterior and that they are free of any cracks or split seams.
Routine Tree Trimming
Without proper maintenance, there are many ways that overgrown trees can reduce the life of your roof and shingles. While having trees is beneficial for blocking the wind and providing some protection against hot summer temperatures through shade, overgrown limbs pose a threat. Especially during storm season, the possibility of a tree or its branches falling on your roof is not an issue you should ignore. Low-hanging branches can rub and scrape against your roof, damaging its protective barrier.
It may sound strange, but too much shade can also be a problem: If your roof stays damp for too long after a summer storm, your roof could develop mold or mildew. Make sure you routinely trim the trees around your roof to keep it in tip-top shape and avoid costly repairs!
Picking The Right Roofing Material
When it comes to Arizona summers, heat is a new thing entirely. Since your roof faces a majority of the sun beaming down on your home throughout the day, it's no surprise that it tends to get the hottest. Of course, the material and color of your roof can make a big difference on those temperatures. Darker colored roofs and shingles can reach temperatures upwards of 150°F in the summer, according to the U.S. Department of Energy. 
If you're looking to reduce the amount of heat absorbed by your roof, opt for white or lighter-colored roofing material. Metal, tile, and slate roofing materials have plenty of advantages. These coated tiles can reflect away over two-thirds of the sun's energy, not only saving your roof from warm temperatures but your home as well, cutting down your summer energy costs.
Beat The Heat With Allphase Construction
A professional roof inspection is recommended every year to stay up-to-date on the condition of your roof and update preventative measures against weather damage.
Request a professional roof inspection on our website and our experts will fill you in on everything you need to do before the summer season is in full swing. If you're ready to invest in roof repair, maintenance, or replacement services, contact us today!