If your home is 15 years or older, features that were once "standard" are now turn-offs for potential buyers. If you're thinking about listing your home, that's probably not the best news. After all, no homeowner wants to hear their home is "outdated," or that the sale price should be lower.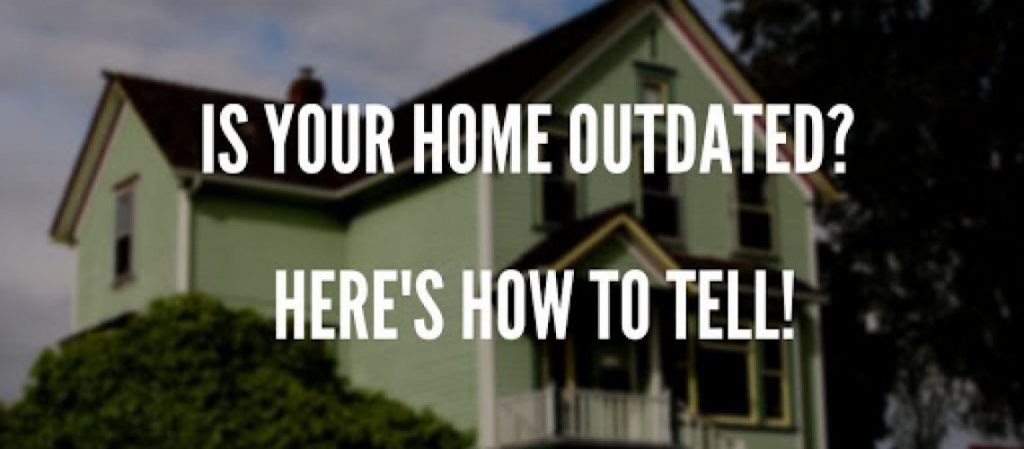 The good news is: making small improvements to your home will not only entice new home buyers, but some projects can increase your home's value!
So, if you are worried about curb appeal, thinking about selling your home, or are interested in maximizing home value, this post is for you!
Learn what home features are considered outdated (#2 may surprise you!)
The most common home features that turn off new homebuyers
Learn what you can update to maximize your home's value
Here are the top 10 home features you should change ASAP if you plan to sell soon:
1. Popcorn Ceilings
We had to start here. Popcorn, cottage cheese, or textured ceilings were standard 30 years ago, but today they scream HUGE PROJECT to potential home buyers. Textured ceilings add shadows, giving the illusion of dark and low ceilings which you don't want.
You're also at risk for asbestos. If your home was built before 1979, get the ceiling material tested for asbestos before you do anything.
2. Poor Curb Appeal
First impressions are everything, especially when it comes to selling your home. While most people will focus on improving their landscaping, there's a more significant area you should be concerned about: your roof.
Your roof makes up about 40% of the overall curb appeal of your home. Missing shingles, existing damage, and debris buildup can send a huge red flag to potential homebuyers.
While it may seem like a big expense to get a new roof or fix repairs, doing so before you list your home can get you more money at closing. One study showed that a new roof could increase a home's overall value by at least $12k.
3. Bathroom Carpet
Bathroom carpets – one of the many great ideas of the '90s. The truth is, they are a bacterial breeding ground and put you at risk for mold. Rip up that carpet and lay down easy-to-clean tile.
4. Laminate / Tile Countertops
Tile countertops are inconvenient, hard to clean, and hard to fix. Laminate countertops can't handle the heat a kitchen counter should, and it screams "'90s." Either option signals a remodel for potential buyers – the more work they think they have to do, the more scared they get.
Avoid spooking potential buyers by replacing those outdated countertops with marble, granite, quartz, wood, stainless steel, concrete, or soapstone, depending on your home and the neighborhood.
5. Dated Fixtures & Hardware
Shiny brass or gold hardware will instantly take your buyers back to the '80s. Switching them for more contemporary materials like brushed nickel is a relatively inexpensive way to make your kitchen and bathrooms immediately look more modern. If you decide to make the switch, make sure you cover all your bases, so your house matches throughout. Make sure to check your cabinet hinges and pulls, your door handles, and your lighting fixtures.
6. Storm Damage
So, this one isn't exactly a flashback home feature, but all sellers should be aware of exterior storm damage. Why is it such a big deal? In one recent survey, 44% of people said storm damage and costly repairs were their #1 fear of owning a home.
One way to put potential buyers' minds at ease is to get a professional roof inspection BEFORE you list your home. This way, you can have proof that your roof and home are safe!
7. Exterior
New siding ranks as HGTV's number-one upgrade to add value to a home. Old and faded or cracked siding severely damages curb appeal and lumps a house into the "fixer-upper" category. If potential buyers see a damaged and unappealing exterior, they won't expect much more from the inside. Replacing siding instantly boosts curb appeal. Refreshing the yard with new shrubs and flowers also adds curb appeal and makes the home more marketable.
8. Wallpaper Borders
The '90s called, and they want their wallpaper back. What was once a trendy design is now officially outdated and for good reason! Eyes are drawn to the difference between the border and wall paint and make a room feel smaller. If you have this in your home, the good news is it's not that hard to take down.
9. Paint
A fresh coat of paint can go a long way when selling your house! Not only is it easy to do on a weekend, but it's also budget-friendly. New paint will add to your home's value by giving rooms an updated, clean look. Just make sure to choose neutral colors!
10. Energy Savings
If your home is at least 20 years old, it may have some energy deficiencies, including a lack of insulation, faulty windows, etc. This can scare off younger homebuyers who are most interested in green home improvements and energy costs.
One improvement you can make before you list your home is adding attic insulation. It won't do anything for a house's visual appeal, but it does much to improve a home's energy efficiency which will please homebuyers. Plus, most projects have a 250% ROI!
How many of these features does your home have? Let us know what you think in the comments below or join the conversion on Facebook!
If you want to boost your curb appeal with a new roof, call (888) 766-3807 or click here to schedule a free inspection with Allphase!