While asphalt shingles are still great at keeping a home safe and looking good, metal roofs have plenty of advantages. Metal roofs are safe against weather, saves you money on your energy bill, last up to 70 years, and more! Here's a look into why you should consider getting a metal roof.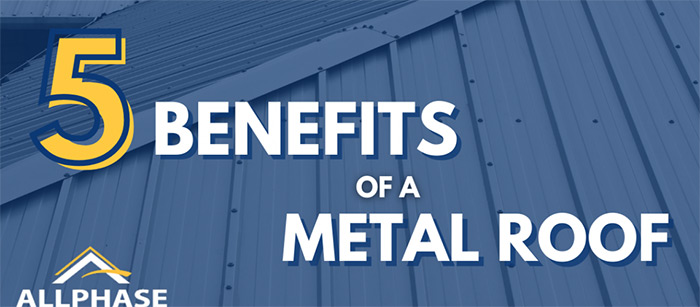 #1: Safety
We know the weather is ever-changing. While we're in the thick of thunderstorm season and starting hurricane season, it's especially important for a home to be protected against these damaging storms.
Also, hot and dry summers are the perfect breeding ground for wildfires.
Metal roofs are resistant to lightning, floods, and wildfires, meaning your roof will keep your home safe through all the storms.
#2: They're Energy-Efficient
Metal roofs are not only resistant to wind, fire, lightning, and floods, they also reflect UV light rays that heat up asphalt roofs. Since they're energy-efficient, they also save you money on your air conditioning bill.
#3: Longevity
Asphalt roofs last about 20 years. Metal roofs last at least double that amount, lasting at least 40 years. If you get routine roof inspections and maintain it well, metal roofs can last up to 70 years. 
In the end, this saves you money from getting roof replacements every 20 years.
#4: They're Durable
Like we mentioned earlier, metal roofs can withstand wind damage. In fact, they can withstand wind gusts up to 140 mph. So, during a hurricane or a very windy day, you don't have to worry about getting roof damage.
#5: They're Environmentally Friendly
When the time comes to replace your metal roof, the metal will be 100% recyclable.
Recyclable metal roofs are super great for the environment and help to fight against the increasing carbon footprint in the air. Help contribute to the planet by getting rid of your asphalt roof, and getting a metal one!
Allphase Construction has metal roofs that will keep your roof safe, last a long time, and save you money in the long run! If you are seriously considering getting a metal roof, call us at (888) 766-3807 or visit our website to get started.