Getting regular checkups at the doctor is a great way to make sure you're staying healthy. Roofs work the same way! Think of professional roof inspections as a "checkup" for your roof. We recommend getting your roof inspected twice a year: in the spring and in the fall.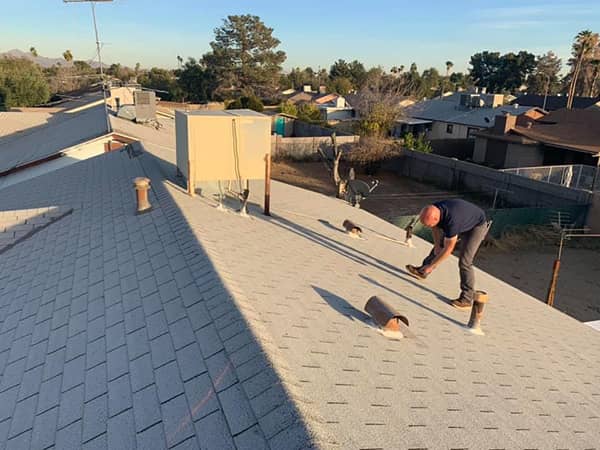 Your roof typically lasts longer with regular inspections. Routine professional inspections also save you money! Here's a closer look at why you should get your roof inspected by a pro.
#1: Your Roof Lasts Longer
If you go to the doctor regularly, you have a better chance at staying healthy in the long run.
Just like people, a roof ages over time and needs extra care. Shingles will eventually weaken and may even tear off. A roof may also weaken with years and years of wind blowing against it.
During an inspection, a roofer looks at your roof, the shingles, and the entire roof system. If there's minor damage, it's a lot easier to fix.
Roof replacements are pretty much inevitable if your roof is 15+ years old. However, regular inspections increase the chances that your roof will last at least that long..
#2: Your Own Safety
Besides a longer-lasting roof, you also increase your safety.
While it's possible to complete a roof inspection yourself, you have to get up on a ladder and onto the roof. That's risky.
Roofing pros know how to safely get onto a roof and stay on the roof using the proper tools and safety equipment.
Don't put your own safety at risk. Save a trip to the ER by getting a regular roof inspection from a professional!
#3: Professionals Know How To Spot Storm Damage
Once the roofer safely gets on your roof, they'll look for storm damage.
Hail, wind, and storms are a roof's worst enemies. Hail damage is sometimes hard to detect. 
Roofing professionals are trained on how to spot storm damage, saving you from damaging leaks in the future.
#4: You Save Money In The End
If you have to get an early roof replacement, that costs money. If you fall from your roof, you have to pay hospital bills. Water damage from roof leaks also costs money.
Regular, professional roof inspections help save you money. Also, if you have to file an insurance claim from storm damage, roofers can help you prepare.
#5: It's FREE!
You're saving even more money because roof inspections are FREE!
Free professional services are the best kind of professional services. Making sure your roof is protected and safe for free is a hard deal to walk away from.
Allphase Construction performs regular roof inspections at no cost to you! We want you and your home to stay safe and protected, and we want you to save money. Call (888) 766-3807 or visit our website to get a FREE estimate to keep your roof nice and safe!